Soak Off Gel Polish viene applicato dopo la stesura di una base. La concentrazione di pigmento nella formula, permette una stesura omogenea del colore dall'effetto coprente.

Tempo di asciugatura:
60 secondi in lampada UV 36 Watt
30 secondi in lampada LED 48 Watt
40 secondi in lampada LED 36 Watt
60 secondi in lampada LED 9 Watt
Durata: 20 giorni con Soak Off Base e Soak Off Top o Soak Off Top No Wipe
Tempo di rimozione: 15 minuti con remover
Soak Off Gel Polish is used after the application of a base. The concentration of pigment in the composition allows a uniform application of the colour that gives a covering effect.

Drying time:
60 seconds in the UV lamp, 36 Watt
30 seconds in the LED lamp, 48 Watt
40 seconds in the LED lamp, 36 Watt
60 seconds in the LED lamp, 9 Watt
Lasting: 20 days with Soak Off Base and Soak Off Top or Soak Off Top No Wipe
Removal: 15 minutes with nail polish remover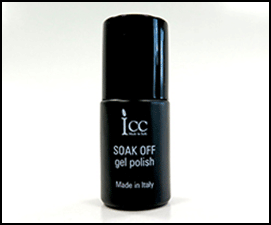 Colori su unghiera 11
Colours on nail chart 11
Colori su unghiera 12
Colours on nail chart 12
Colori su unghiera 13
Colours on nail chart 13